-

-

-

-
Hey guys! I'm getting close to 3500 watchers (wow!) so I thought I'd go ahead and
give a little back again to ya'll by featuring some of your works and giving away some points!

FEATURES


GIVEAWAY

The giveaway will be for 100

!
Thanks very much to 
Michael-Strange
 and 
TheFrozenCat
 for helping out! 

RULES
1. You must 

 this journal 

2. Comment below with your favorite candy 

If you don't like candy (blasphemy!), your favorite food? Or if you don't like food...uh...favorite IV?
This giveaway will end on the 9th of August and a winner will be randomly chosen!
~~~WINNER!~~~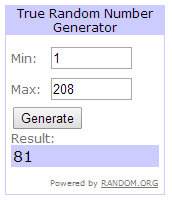 CONGRATS!
Thank you everyone for participating 

I hope to do this again sometime 


THANK YOU

While you wait, feel free to check out my artwork 

Thank you again for watching me!